On 12th March, an exclusive introductory meeting was held between the German Ambassador​,​ H.E. Hans-Christian Freiherr von Reibnitz, and​ ​media representatives. A seasoned diplomat with years of regional experience, he has ​served ​ as Ambassador to Oman, and as Deputy Ambassador to Riyadh. After briefing the media representatives on German-Kuwait relations, the Ambassador shared his thoughts on further strengthening them in the coming years.
"I had the honor to present my letters of credence to H.H. the Crown Prince, Sheikh Mishal Al-Ahmad Al-Sabah, on 7th March 2023," he said. Ambassador Reibnitz also mentioned that it would be his privilege to work on deepening the relations between both countries.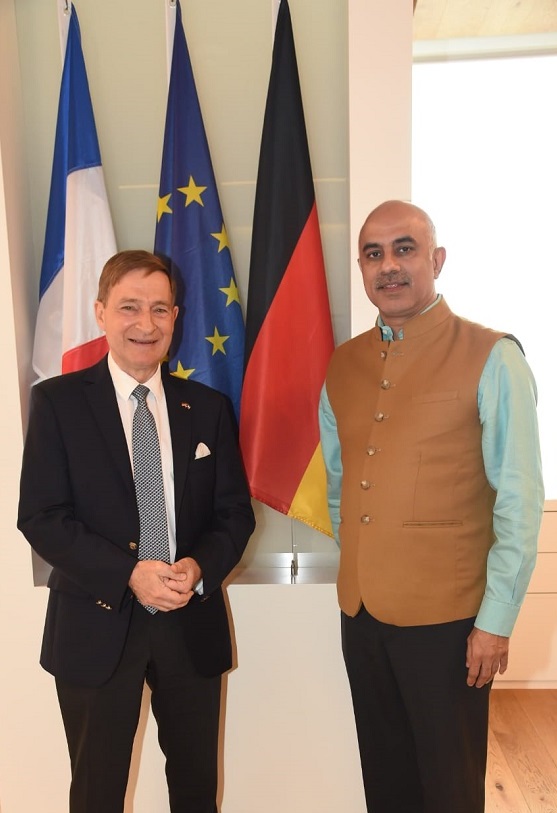 "Kuwait and Germany have shared strong bilateral ties since Kuwait's independence. Building on this solid foundation of shared values and interests, my priority is to expand the bandwidth of our relations further, to exploit the full range of our bilateral potential," he pointed out.
The German envoy affirmed that climate change was the most pressing global issue. "Climate change is real, and it is here. The current effects of unabated global emissions remind us to join ranks and intensify our battle. Germany will remain a leader." He mentioned that his government would host the ninth International Energy Transition Conference in Berlin this year, from the 28th to the 29th of March.
The conference would reiterate the motto, 'Energy Transition – Securing a Green Future' in the run-up to COP 28 this fall.
"At a time of great opportunity and great uncertainty in the energy sector, the forum brings together policymakers, businesses, and innovation leaders from across the globe to realize the full potential of a global energy transition," said the Ambassador. "This year's conference tackles the biggest challenges in the energy transition, such as energy security, decarburization, green hydrogen, energy access, and security risks emanating from climate change".
"We are also keen to participate in the economic diversification of Kuwait, (Kuwait Vision 2035) it is shaping up to be a task of strategic proportions. German companies stand ready to contribute when called upon. They have left their mark on the country's project landscape, time and again, more recently in the energy sector, as supervisors of the new Umm Al Hayman wastewater plant and as project consultants at Kuwait International Airport."German engineering companies and scientific institutions were also involved in the flagship Shagaya Renewable Energy project. The Ambassador also mentioned that he saw great potential in these and many other segments of the Kuwaiti economy. "We stand ready to partner with Kuwait for a diversified, prosperous economic future," he stated.
The post ​Climate Change among major issues Germany hopes to ​cooperate with Kuwait ​ appeared first on TimesKuwait.